You're building a great business. You're through the start-up phase, growing fast and your market opportunity is significant. Welcome to the scale-up phase. Whether you're a founder-turned scale-up CEO, or a professional CEO who's joined a founder team, Frog talks your language - we specialise in scaling tech companies. Helping leaders succeed through the scale-up phase is what we do at Frog.
It's why we call ourselves the CEO's VC.
Frog invests in software enabled scale-up stage tech companies in Europe. We invest in equity rounds of €5m - €20m in companies with annualised revenues of typically €3m - €30m. We only invest in sectors we understand: consumer, financial and businesses services. We aim to make scale-up a science, not an art. Together with our network, we're continually improving a Scale-up Methodology. We use this, our network and our experience to help you succeed.
€1bn

Total exit transactions since 2010

≈40%

Portfolio revenue growth PA

60

Experience of investing in over 60 companies
Our Scale-up Methodology
Your role as CEO is changing rapidly. You want an investor who is experienced, supportive and adds real value. One who complements your early investors. One who supports your ambition whilst highlighting pitfalls, acting as a constructive, independent partner.
Our Scale-up Methodology is our way of showing what we see as vital in this next phase. It provides a framework for us to help you prioritise your most precious resource; your focus.
Our Scale-up Methodology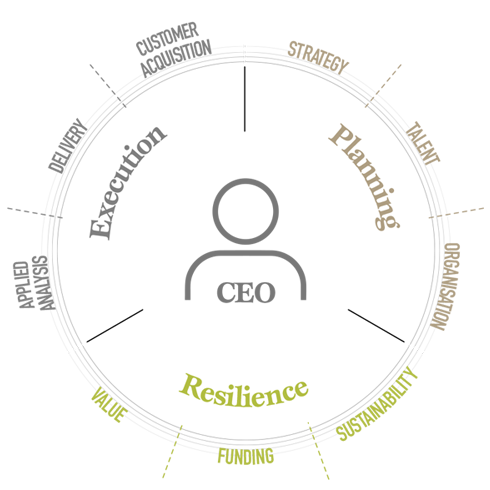 Advanced analytics for retail

Sector

Retail Software

Location

UK, US

Investment Status

current

The typical retailer will lose 11.7% of revenue this year due to the combined impact of overstocks, out-of-stocks and needless returns in their omni-channel operations. Advanced analytics for retail merchandising success is not wishful thinking. DynamicAction automatically creates an environment where data spanning the organization is scientifically considered using algorithms written by world-class data scientists and retail experts. The company's technology identifies disconnects across the data sets and organization, prescribes specific actions to take to solve those disconnects, and prioritizes them by financial impact to your business.

Under the leadership of John Squire, ex Coremetrics CSO, DynamicAction has a blend of the best retail experts and engineers, data scientists and marketers from the most recognizable companies in their industries, including McKinsey, IBM, Figleaves, Coremetrics, Travelocity, Marin Software, Harrods, Tesco, Chevrolet, Chevron, Match.com and Topshop. DynamicAction's customer base has a few things in common: They are leaders in their categories, have extremely complex businesses and are facing intense competitive environments. Most importantly, they have visionary leaders who understand that reports, dashboards, and one-size-fits all analytics are simply no longer enough to be successful. You see them quoted in the press and headlining industry conferences for a reason. They are leading the retail merchandising revolution and will be the ones who beat their digital business plan and stay ahead of customer expectations. They are they ones that lean forward to make better decisions and take fast action on their cross-organizational and cross-channel data. Amongst them are Brooks Brothers, Clarins, Tesco, ElCorte Ingles, Nine West and Cole Haan.

"Whilst retailers worldwide are under intense competitive pressure due to Amazon and the internet, they are also losing a staggering $1.75 trillion in lost revenue opportunities on an annual basis. DynamicAction helps find and win these lost opportunities on a day in day out basis. At Nine West, their ROI on DynamicAction was 15x in 4 months as we uncovered $5.7m in profit (not revenue) potential during this time period."

-John Squire, CEO, DynamicAction
Meet the team
Frog's team offers unique growth stage expertise. We have a diverse range of experience that makes us valuable partners for CEOs entering the scale-up phase.
Our team includes tech entrepreneurs who have walked the talk, engineers and executives with first hand operational experience as well as technology sector VC veterans.