Frog's first institutional fund proving its European software Scale-Up strategy can deliver the best of both worlds: growth and low loss ratios. Portfolio KPIs: average revenue run-rate €18m; with average revenue growth rate of 50%; average entry valuation €42m; and, 100% to be profitable by the end of the fund period.
Here is a quick overview of the portfolio in Frog European Growth I, giving our investors a profile to the following;
High growth companies with proven business models
Sensible entry valuations that are forecast to deliver 3 – 10x multiples at the portfolio level in line with historic European trade exit levels
Zero to low leverage
Highlights
A growing portfolio, with average portfolio revenue growth of 50%
A profile to strong underlying tech growth in Financial Services, eCommerce, PropertyTech, EdTech, Media and AutoTech
100% to be profitable by end of fund period. Currently, over 2/3rds of the portfolio is profitable or funded to profitability
Our success so far is based on our 'Scale-Up Methodology', which provides us with a robust and consistent deal selection tool, a strong post-deal portfolio support framework and is proving highly attractive to CEOs experiencing high-growth.
Recent updates
McMakler has just raised a €50m at a 10x uplift from our entry valuation. Now funded through to profitability, we forecast that their digital strategy will enable them to grow from being the 4th largest real estate agency in Germany to being the 2nd within the next 12 months, and extend their activities into the financial services area.
Volkswagen Group selected Vulog as their strategic software partner to enable the global roll-out of VW's WeShare mobility services strategy. As the world's leading independent provider of vehicle-sharing technology, Vulog is powering WeShare's Berlin launch via 1,500 electric vehicles. This launch follows other recent launches with Peuguot and Kia in the US and China.
Our investment in Sellics is a great addition to the portfolio. A bootstrapped business, introduced to us by a founder of one of our portfolio companies, Sellics is not only profitable but with this investment has the potential to grow >100% for 2019. Sellics is a leading SEO & SEM software platform on Amazon, used by sellers and vendors to promote their products, market more efficiently and optimise their sales through Amazon. With 50% share of the US e-commerce market, 30% sales growth in 2018 alone, Amazon is the largest destination for e-commerce and now the third largest advertising platform (after Google and Facebook).
---
About the author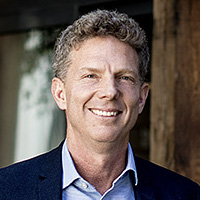 Mike Reid
Senior Partner
Mike launched Frog in 2009, after seven years in industry and 12 years at 3i. He represents Frog on the boards of Clue, Evotix and Modulr.