Congratulations to Spotify on their news this month: the company is now public. From their start-up origins to recently being valued at over $23bn, Spotify has been on an incredible journey. Their CEO, Daniel Ek, and his team have done a fantastic job and I feel privileged to have been part of Creandum, the first institutional investor to back them in 2008.
When we first came across Spotify, we immediately noticed the potential of the team and their positioning in the market. This was clearly a high-risk investment in a small, Swedish startup that wanted to solve what was, at that time, the music industry's biggest problem: consumers illegally downloading music and artists missing out on royalties. Despite the risk, it was obvious that this was great timing for Spotify in their market, with very limited relevant competition.
Here are Creandum's notes following our first meeting with Spotify: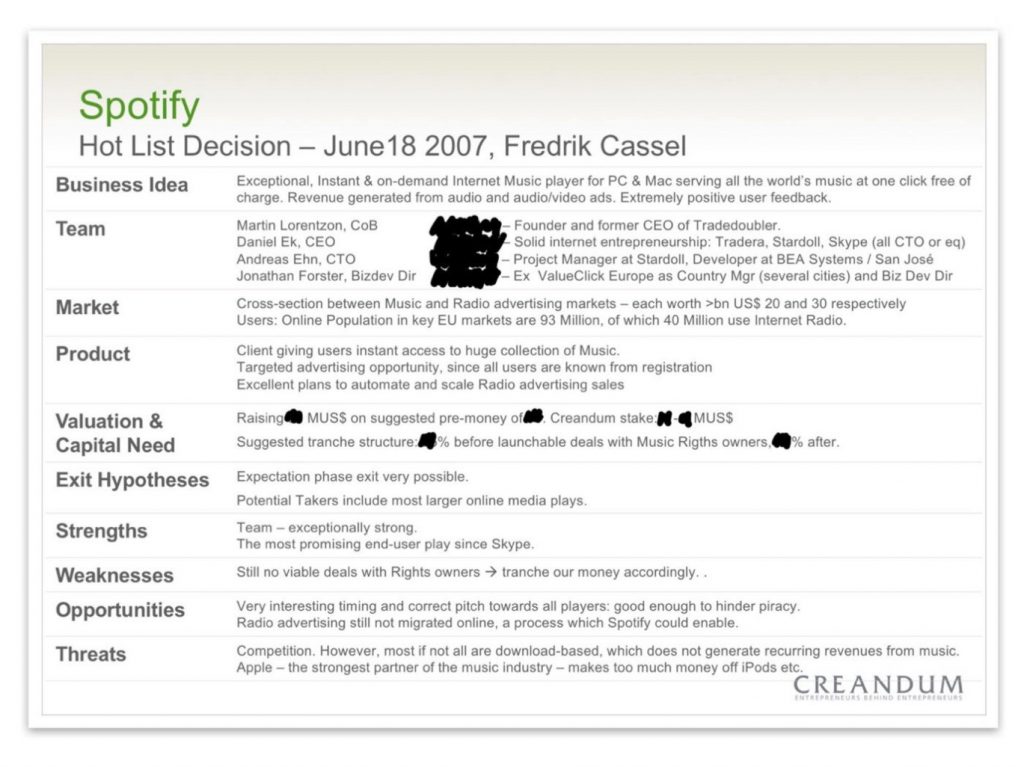 Having been an entrepreneur and now an active VC investor for over 15 years, I can see that Spotify's achievement marks a real milestone for Europe – the market is maturing into a thriving technology ecosystem.
Experienced Founders
There is a very high quality of founders and business propositions coming to market these days. Now that Europe has produced a number of successful startups, including billion-dollar companies that have been exited, a new generation has been created.
Many of these founders have experienced working in large global companies and founded their own business several times. Some will even have founded a successful startup in the US and opt to return to Europe to found their second or third.
Exceptional Support
The expertise and support technology scale-ups now receive from the VC community is outstanding. Venture capital firms these days have many more partners who have their own entrepreneurial background.
Ten years ago, the VC industry was a very different space – mostly people who came from banking or finance. The only thing they could support entrepreneurs with was financial expertise.
Now VC firms hire former entrepreneurs who have been through their own startup journey and experienced all its challenges personally. They are therefore much better positioned to help a startup CEO build a successful business.
Recruitment Power
European companies are able to attract top talent as they go through the scale-up phase, which is so important to their successful growth and development.
As an investor, one thing I particularly look out for when considering investment opportunities is what I call recruitment power. To me, if a CEO has recruitment power, it means they are someone who people want to work with, someone who can attract the best talent.
With Facebook, Spotify and Vivino, their common denominator was management teams who had recruitment power. Recruitment power is equally something CEOs often need support with – helping companies and CEOs attract high performers is one of the top priorities of VC firms.
Defining recruitment power is a difficult task. CEOs must, of course, have a leadership skillset – drive, intelligence and the ability to be assertive – but it's not all about IQ. As the world moves forward, we're increasingly looking for CEOs who not only have a high IQ but a high EQ, or emotional quotient. This golden combination is hard to find, but an essential quality in a CEO with recruitment power and true leadership potential.
Learnings from Spotify
The most important thing to retain from Spotify's achievement is that it takes time to grow a successful business. Spotify was not built in two years – the company was founded in 2006, so this is a project lasting more than ten years.
Success is about being determined, patient and loyal to your ideas. Spotify is a brilliant example of how, step by step, European CEOs can build a large, successful and multinational business – I wish them the best of luck for the future.
---