Opensignal – the global standard for measuring mobile user experience in the wireless industry – have recently published their latest industry-leading analysis, where they have found that users experienced much faster speeds on 5G than with 4G. However, Opensignal advocate that the mobile industry should accelerate 5G deployments so that the advantages of these high 5G speeds can be enjoyed more often, since users currently have much higher availability on 4G. Amongst their findings, Opensignal found all ten operators saw much faster speeds for their users on 5G compared with 4G, with speeds between 18.4 times and 1.7 times faster on 5G. However, average 5G download speeds also varied widely, ranging between 506.1 Mbps on Verizon down to 47 Mbps on T-Mobile US. While the average 5G speed varies dramatically across these ten leading 5G operators, in every case the 5G Download Speed Experience is dramatically faster than 4G. The operator whose users experienced the fastest 4G download speed, SK telecom, still saw 5G speeds 3.5 times faster.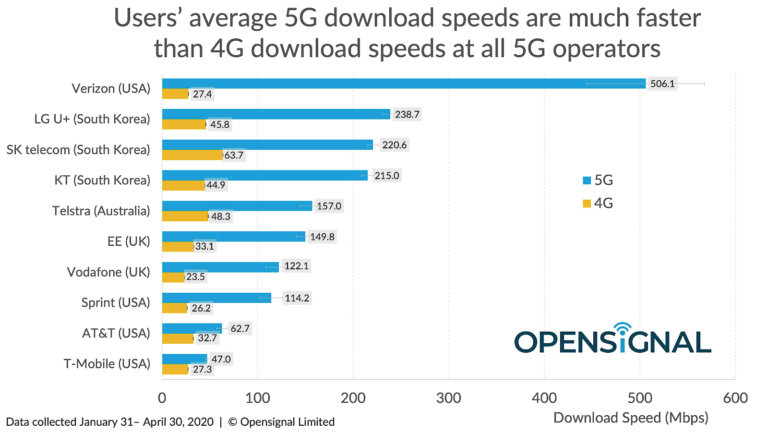 For this analysis, which comes soon after their insights on 4G Download Speeds & time on Wifi during pandemic lockdown, Opensignal looked at how the 5G experience compares in four leading countries – Australia, South Korea, the U.S. and the U.K. – across ten 5G operators that all launched 5G well over six months ago. Their insights particularly look at download speed and the amount of time 5G users get a 5G connection.
The ten operators included in Opensignal's analysis are:
LG U+ (South Korea)
SK telecom (South Korea)
KT (South Korea)
Telstra (Australia)
EE (UK)
Vodafone (UK)
Verizon (USA)
Sprint (USA)
AT&T (USA)
T-Mobile (USA)
According to Opensignal, speed is far from the only important measure of the 5G experience. How much time users are able to enjoy that experience is equally important. There is little point in having the potential to enjoy 5G, if that 5G experience is not often available. The time that users spent connected to 5G — 5G Availability — also varied greatly between operators, reaching a high of 19.8% of the time on T-Mobile US, indicating that while T-Mobile 5G speeds may not be the fastest, their users will experience the higher 5G speeds considerably more often than the users of other 5G operators. T-Mobile US users spent the most time connected to 5G globally, with a 5G Availability of 19.8%, closely followed by all three South Korean operators with 5G Availability ranging from 15.4% to 12.6%. South Korea continues to demonstrate not only tremendous 5G adoption, but a widely available and fast 5G experience.
Opensignal's insights are important to understand both for consumers considering upgrading to 5G and also for the mobile industry that's planning how quickly to invest in 5G. On the latter, they suggest that the mobile industry should move quickly on 5G deployments so more people can enjoy the advantages of 5G more often.
You can read Opensignal's new analysis and insights in full here.
---