---
Frog recently hosted a fantastic event at the Mews focused on 'Scaling with Purpose', in partnership with Fintech Global's Regtech Summit. Following a networking breakfast, we held a panel discussion chaired by Frog Operating Partner, James Bagan, covering 'Go-to-market in tough times' as well as expanding into the US with some of the leading Regtech experts in the market:
John Lord, Investor & Advisor
Zoe Bucknell, Founder of Kuberno
Ben Woodruff, VP of Global Sales at Evotix – one of Frog's former portfolio companies, who were recently acquired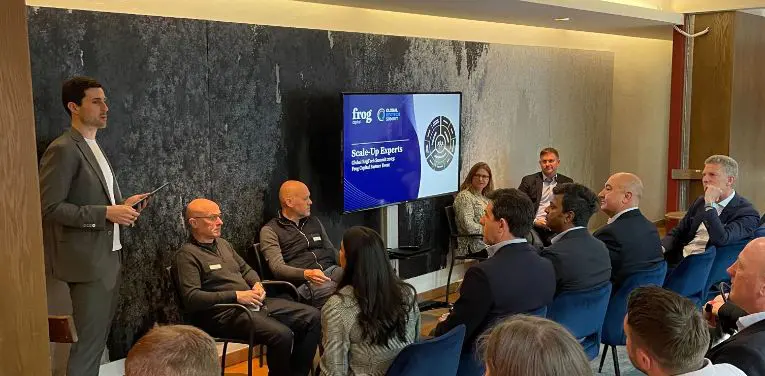 We are hugely grateful to James, John, Zoe and Ben for their fantastic insights.
We are pleased to share an overview from the conversations, which will give you at least part of the value of the event including links to two of Frog's toolkits on Building Sales Machines and US Expansion. Continue reading below.
Frog Operating Partner, James Bagan, chaired the panel and set the scene with the chilling stat that currently 78% of sales teams are behind their forecast. Perhaps even more worrying is none of them think this will recover before the end of the year. James continued…
Ben Woodruff, VP of Global Sales at EVOTIX, shared excellent advice for businesses entering the US. You need the senior exec team to be able to effectively communicate what the essence of the business is when entering a new market, making sure to retain this when expanding. They can also report back what's important in the new market to the wider exec team.
Ben also discussed the value of a robust sales process and continuous coaching to deliver sustainable results. He also explained that following a thorough exercise with consultancy Winning by Design and setting up a comprehensive playbook they reduced the time new sales execs took to get up to speed from 9 months to under 3 months.
Zoe Bucknell, founder and CEO of Kuberno gave some invaluable perspective from the buyer's side. If sales teams aren't focused on customer needs and pain points, then they never earn the license to really sell how their product can solve those problems. After training as a solicitor, she gained over 20 years' experience in regulatory business across roles spanning General Counsel, Compliance Director and Company Secretary and noted the differences between Europe and the US, where roles like Company Secretary don't feature, but Paralegals, which while more junior in Europe, play a more established role in the US.
Zoe explained the value of establishing a client partnership with a big brand to help reassure other prospective clients and open up the market. In their case it was Nasdaq, who would later invest in their Series A round via Nasdaq Ventures to fund their growth.
John Lord shared stories from 6 previous recessions, including times at Dun&Bradstreet, GBG Group Plc and Tru Narrative, which he founded and sold to Lexis Nexis. He noted that net retention should be a priority metric for commercial teams. Setting minimum deal sizes too high can prove a huge drain on sales teams, where sales cycles are much slower and conversion rates much lower. Smaller deal sizes can drive strong revenues if some of your best sales people are focused on account management, focussing their efforts instead on strong upsell of existing customers.
He made a very interesting point contrasting point solutions with enterprise platforms – point solutions maybe easier to sell in good times, but are also easier to remove in tough times and may not be perceived as providing compelling enough value under increased scrutiny. Enterprise platforms may command a more complex sales process and longer sales cycle, but can be viewed as more integrated and comprehensive a value proposition that wouldn't be so quickly replaced.