Frog Senior Partner, Mike Reid, interviewing Patrick Pelata (ex COO of Renault Groupe & non-executive director of Vulog)
Society is going through a shift in expectations when it comes to mobility. Over half the global population now live in urban areas, according to UN data. This creates a big challenge for transport planners and policy makers. All big cities are struggling to manage mobility at such a scale and are looking to reduce the number of cars as a result. It's an issue all over the world.  
Shared Mobility 
Where previously there was widespread car ownership, now the rise of car sharing, ride sharing and mobility on demand is increasingly dominant, largely driven by ride hailing services like Uber and Lyft. Shared mobility is a great solution to public transport planning challenges and will not only reduce the strain on roads and commuters, but also reduce carbon emissions so we can begin to better protect our planet. 
Autonomy 
Autonomy could one day provide further relief to urban mobility challenges. The first steps are already being taken, typically in low-volume environments outside of town centres. It is not yet clear when autonomy will be available at scale. Waymo have already launched Waymo One, a commercial self-driving service to a test group of 400 people in the neigbourhoods of Phoenix, USA, where it's easier to drive, the rules are less complex and it's safer overall. The technology is also advancing in Europe: Vulog demonstrated France's first shared autonomous mobility service in Nice, France, with Akka Technologies. 
As for robotaxis, these will start out by offering transit between high-density places. For instance, in Paris you might have a robotaxi that travels from the business district (La Défense) to Paris Roissy Airport. These could be electric vehicles and could be priced more competitively than taxis. This would be especially of interest in areas where public transport is minimal, and autonomous vehicles such as robotaxis could have many deployments in industrial locations too. 
Electrification 
But for autonomy to progress any further, local authorities are going to have to step in and regulate. Action has already been taken by policy makers in Europe on the electric vehicles market. The electric vehicles market is beginning to move very fast now for many reasons. While still a very new concept, there are now over 5.4 million electric vehicles on the road worldwide.
In the US, sales of electric vehicles grew by 81% in 2018 and China have recently announced landmark legislation which targets sales of 7 million plug-in hybrid or battery-powered vehicles per year by 2025. 
As for Europe, the EU parliament have decided on a target of 20% market share for zero and low-emission vehicles for all new car and van sales by 2025: the vast majority of these vehicles will no doubt be electric cars. France in particular will need to put more weight behind the transition to electrification, with the availability of more charging points at petrol stations. At the moment, consumers are still facing the fear of running out of electricity. 
Climate change
The future is shared, autonomous and electric. And if we look at the big picture, as a planet, if we don't do something about how we use cars, we cannot reduce emissions enough. To limit the global warming temperature increase to 1.5 degrees maximum, we will need to drastically change the balance of vehicles on the planet. We need to keep to today's figure of 1.2 billion vehicle, while increasing the number of electric vehicles to 800 million from today's 5.4 million. That will require a significant move towards electrification, autonomous vehicle adoption and shared mobility. 
For more information about Vulog, visit their website.
---
About the author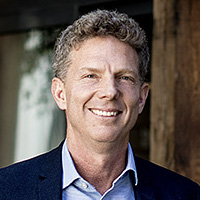 Mike Reid
Senior Partner
Mike launched Frog in 2009, after seven years in industry and 12 years at 3i. He represents Frog on the boards of Clue, Evotix and Modulr.