Richard Law became CEO of GB Group in 2002, increasing its market capitalisation from £5 million to over £300 million to become a leading global provider of identity verification software. Frog invested in 2009 and exited in 2013. He stepped down in 2016 and the business is now valued at £1.1 billion.
Richard is now a Chairman and Investor for multiple high-growth technology businesses in the UK, including Vypr and Zuto. He equally sits on an angel investment committee in North West England, helping to spot and develop up-and-coming technology businesses in the region. 
Dear Richard,
Your fascination with disruption began away from the technology sector – when you started out your career in mining. You were intrigued by the feeling of being part of an industry that had been the foundation of the industrial revolution. You would stand a mile below ground amongst 300-million-year-old fossils that would have once been on the surface and would know you were there thanks to advancements in technical equipment. When you witnessed the first technology wave of the early 1990s at EY, you could see the potential of these businesses and you wanted to be part of this new transformation.
At the moment, it's 2002 and the business where you work as Finance Director is undergoing a restructure. Soon, the Board will offer you the opportunity to step into the CEO role – you've built up the right skills now, so you'll feel ready for the challenge.
The next 15 years are going to be busy, so I want to give you some advice to set you on your way:
Don't just have an idea – check the market is ready for it: it might seem obvious to your mind that ecommerce will take over from bricks and mortar, but not everyone will be ready for an online identity verification service. You've established that this would clearly address the industry's painpoints and enable people worldwide to do business online. Your customer base won't be interested for the time being but their commercial drivers say differently. You've done your research and you know this is how they can achieve their goals to improve efficiency and gain competitive advantage. But for now you'll have to be patient until the rest of the world catches up with your thinking….it will take two years but will be worth waiting for.
Ensure everyone in the business can understand your vision: you have a vision that you want to communicate to the team. Once you've scaled, it will be even more important that you present it simply – it must be short, easy-to-understand and uncluttered by numbers. Clear communication will help everyone buy into your vision, so create a methodology to demonstrate how your vision will drive delivery. Your methodology will start with the vision, clearly stated, followed by three objectives which add more detail. Next include all the initiatives you will run to achieve these objectives and then these initiatives' strategies. For balance, you should structure these initiatives around five building blocks: Team, Marketing, Brand, Product and Processes.
Always listen to your team: talent and culture is everything. It's the team that will deliver the success of GB Group, not you. Your role will be to set the vision, give guidance and build the culture…the team will do the rest. Do your best to get authentic feedback from your people about the business. Get to know them – their families, their hobbies, their likes and dislikes. Once you've grown much more this will be harder, so every six months conduct a simple employee engagement survey and really listen to what your team tell you. Use their feedback to drive what you do within the business and you will see a transformation in their engagement and motivation. If a member of the team is struggling, take time to understand what the solution could be and identify if their skills can be developed or be applied elsewhere internally. People may see this as wasting time at first, but you'll know there are immeasurable benefits to creating a culture where people feel secure and valued.
It might be somewhat of a fledgling business at the moment, but don't underestimate what you can achieve by executing a simple idea. Think big – there's a global opportunity here. Use the problem-solving skills you developed as an engineer to assess what needs to be done and then break down your vision into manageable chunks your team can deliver.
With a bit of luck to help you on your way, you're poised to grow this company into a real success story.
Richard (your future self)
---
About the author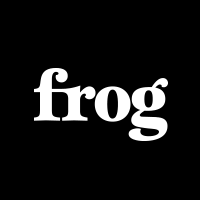 Frog

Frog generates stories about the Frog portfolio, team, events, and other scale up related topics. Let us know what you think of our work.