Frog brought together over 100 of Europe's most influential entrepreneurs, CEOs and investors at one of London's most iconic landmarks, Tower Bridge, for an evening reception co-hosted by Renovata Partners and Northzone after Day 1 of the 2015 NOAH Conference. Guests were treated to a unique view of London, a city which continues to cement itself as one of the leading tech hubs in Europe. Suspended 40 metres above the River Thames, the Tower Bridge Walkway venue made it "feel like you're lording it over Boris", said Jeremy Lewis of Universe Group, gesturing to nearby City Hall. "Hosting so many big hitters from across Europe is great," said Frog's Jens Düing.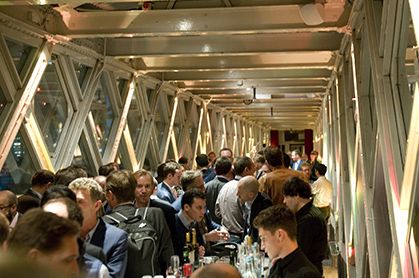 "Accelerating, whether your vehicle is a start-up or a real engine, can drive us beyond what anyone thinks possible", suggested Frog's Managing Partner, Mike Reid, as he relayed one of the venue's most famous anecdotes in his welcome speech. In 1952, Albert Gunter was driving a no.78 bus carrying 20 passengers across Tower Bridge when the bridge began to open, rising up from the middle. Combating his fears, he put his foot down, betting the bus could leap to the other side. It did, and Gunter became a hero. Now that got the CEOs at our event thinking.
The NOAH conference is a cornerstone in London's growing reputation for tech growth companies. "It's the best growth conference in Europe, hands down", according to Hussein Kanji, Founding Partner at Hoxton Ventures. Investors and founders from across Europe come to connect and do business at NOAH. "It is efficient in terms of raising money; we bring a lot of our CEOs here", said Rainer Maerkle, Partner of Holtzbrinck Ventures.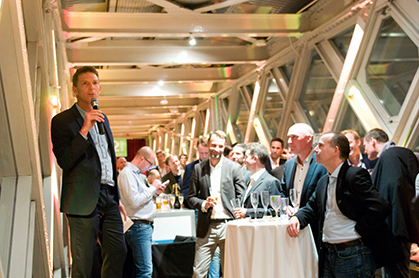 "This conference has become the place for tech companies mature enough to be considered targets for growth capital," said Sylwester Janik, Partner at MCI Group. Robert Henker, Founder and CEO of Cashboard, won the €4m SevenVentures Pitch award at the 2014 NOAH Conference. "NOAH opened doors for us", said Henker. "Afterwards, we raised a round, and became part of a club. You're meeting the right people from the right companies. It's exclusive." Frog's event was about a "truly European community coming together", said Reinier Musters from Orange Growth Capital in Amsterdam.
Investors and entrepreneurs making the perfect match is the goal, and in a flight of fancy (and champagne), a Tinder-style app has been suggested for future conferences. "It's a bit like online dating, after all", said Hannes Klöpper, iversity's CEO. We can't promise leaping buses, but Frog has vowed to again bring together NOAH attendees from across Europe next year. Plus, look out for the Frogs in Berlin (that other great tech hub) in June 2016 at NOAH Berlin.
---
About the author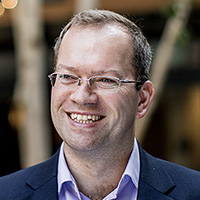 Jens Düing
Senior Partner
Jens joined Frog in 2012 and became a Partner in 2016. Active across all Frog's investment themes, he has a particular focus on investment opportunities in German-speaking Europe and BeNeLux.