One of Frog Capital's portfolio companies (Caspar) has recently been interviewed by newsletter publication MedTech Pulse, deep diving into all things in the medical field. Caspar Health's Co-founder and Managing Director Benjamin Pochhammer spoke about the potential future trends in medicine and why he finds working in healthcare so rewarding.
Casper Health aims to set new and high standards for digital rehabilitations enabling "broad access to effective, results-oriented, time- and location-independent rehabilitation." The Casper team also has an in-house team that is available around the clock to help and support clients ensuring high therapy success rates for all their patients.
By using the Caspar platform, it allows doctors and therapists to have a better form of communication amongst each other, as well as with their patient list and provide information and tips tailored to the patients' needs to make a full recovery.
When asked about the most exciting part of the role, Benjamin explains how it's about "the quality of life for many people" and later goes on to say, "we receive feedback from patients on a daily basis, describing how grateful they are for what we are doing and how it is positively impacting their lives".
The interview also highlighted what is expected to come in the future of medicine and how patients will become the focus of treatments as they will have access to all of their health data and will have more control over how they are treated. You can access the full interview here.
---
About the author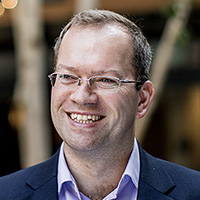 Jens Düing
Senior Partner
Jens joined Frog in 2012 and became a Partner in 2016. Active across all Frog's investment themes, he has a particular focus on investment opportunities in German-speaking Europe and BeNeLux.