sofatutor, Germany's leading digital school learning platform, now has up to 1.5 million monthly users on their platform and app. This has translated to a fourfold increase in new subscribers since February alone.
As the only online service which covers the entire school curriculum in Germany, it has rapidly become the most comprehensive online learning platform in the German-speaking world and, furthermore, the undisputed market leader.
Schooling worldwide has undergone a seismic shift in terms of its day-to-day operations – a record number of children and youths are not attending school because of closures mandated by governments in an attempt to slow the spread of COVID-19. Consequently, remote learning and online educational programmes have fast become the new normal in most young peoples' lives.
The number of signups to trial the sofatutor platform has grown by eight times over the course of the pandemic. This development is expected to accelerate the nascent adoption of digital learning content in German schools, another new business opportunity for which sofatutor is in pole position.
---
About the author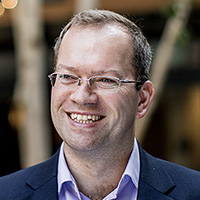 Jens Düing
Senior Partner
Jens joined Frog in 2012 and became a Partner in 2016. Active across all Frog's investment themes, he has a particular focus on investment opportunities in German-speaking Europe and BeNeLux.