It is common knowledge that the US has been better at scaling their high growth tech companies in a major way. In their recent report, Lazard's highlighted the US invested 4 times as much venture / growth equity as Europe, between 2015-2020.1
Capital invested in US & European venture/growth 2015-2020
As even the most harden cynic cannot deny, the European ecosystem for innovation, software, digitisation and technology has been making great progress over the last 10 years. European VC funded exits (€B) averaged €21.9 billion per annum for the five years to 2019, four times the same period to 2010 (€5.1 billion per annum).2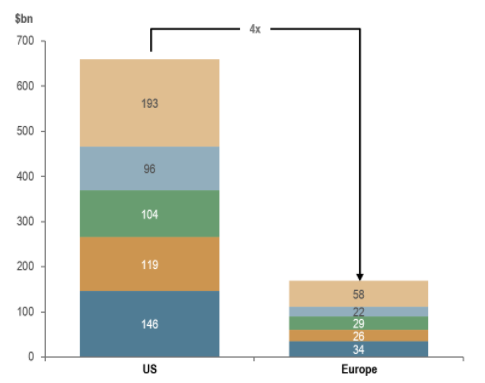 This strong growth in VC and Growth Equity backed exits had been fuelling an increase in European Growth Equity activity, 2019 being more than triple 2010.3 But, as the chart below highlights, there remains a significant gap compared to both the US and Asia.4

What has been the impact of COVID19?
Unsurprisingly, new investment is down. Q2 2020 is down 9% from Q2 2019 for deals below $100m. Deals above $100m are down by 52%.5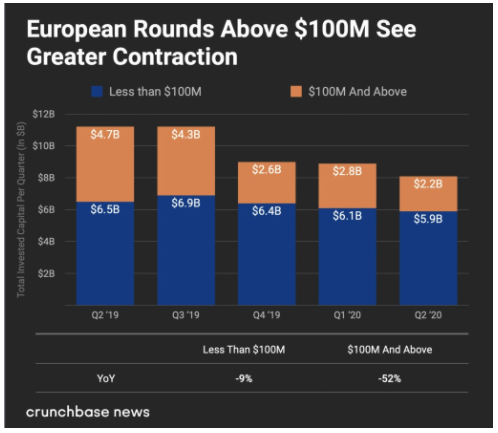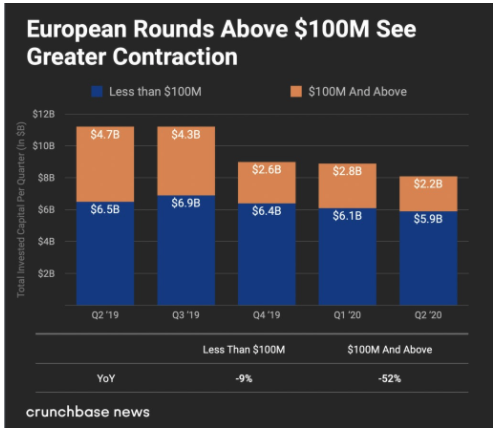 Good deals for opportunistic investors
KMPG notes, "There is a significant amount of caution for the European VC market heading into Q3'20. Investors have slowed the pace of deal-making considerably, taking more time to conduct due diligence and commit funds — which will likely have an impact on both the number of VC deals and the level of investment in the region. Given current challenges, there is expected to be continued downward pressure on valuations — which could prompt some opportunistic investors to look for good deals."
The fact that many digital companies are not just surviving COVID, but actually thriving is attracting LP attention. There are major opportunities across several industries:
Healthcare – Telemedicine, Diagnostics, B2B SAAS workflow and analytics
Education – Remote tutoring, Hybrid classroom education
HR & Workforce Management – Health & Safety, Remote worker management
Ecommerce
Financial Services – Digital payments, Insurtech
International investors seeing the European Growth Opportunity
This European opportunity was already seen and acted upon before the COVID19 crisis. US, Asian and RoW investors grew to 42% of later stage VC & Growth Equity, up from 27% in 2016.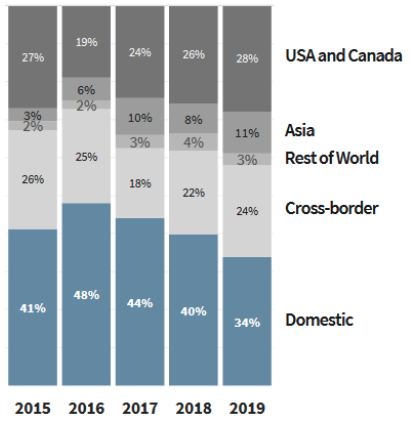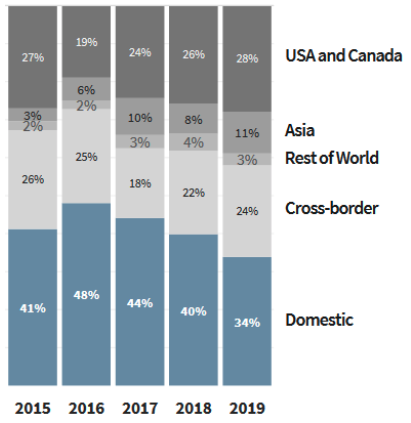 European later stage VC & Growth Capital funding by country/region source
Why are more European based funds not using their home advantage to beat their international competitors? The answer may be in how the fund management industry perceives each of the ecosystems and the theme of technology.
Pension funds in the US commit a far greater proportion of the US VC and Growth Equity funding than in Europe. This long term commitment to the asset class is a major strength for US GPs, some of which is ironically finding its way into European deal flow.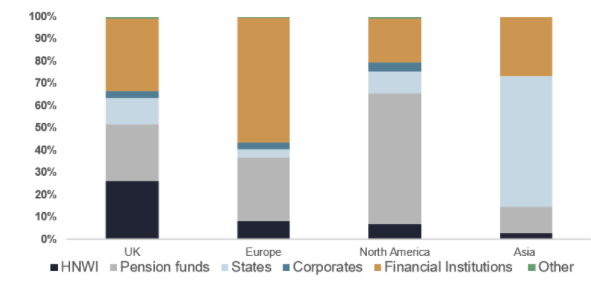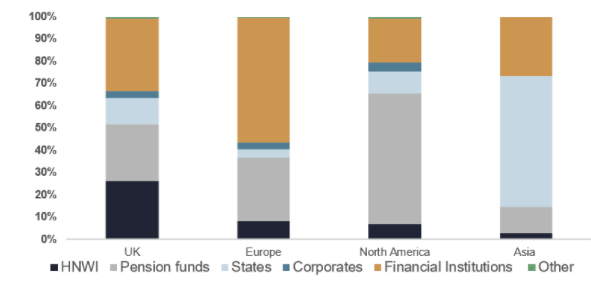 Source Pitchbook: BVCA report
Conclusion
Increase your profile to technology experienced GPs and direct deals
Look seriously at European GPs. US LPs are, and US GPs are. Don't be left out
Debt leverage and Tech rarely mix well
Look at Growth Equity. It is more resilient than early stage Venture Capital
Footnotes:
Pitchbook, from Lazard ScaleUp Views, H1 Update, August 2020 
Pitchbook European Venture Report, Q2 2020
Pitchbook, from Lazard ScaleUp Views, H1 Update, August 2020
Pitchbook, from Lazard ScaleUp Views, H1 Update, August 2020
Crunchbase News
---
About the author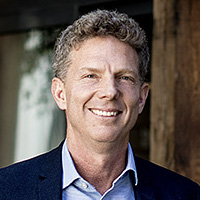 Mike Reid
Senior Partner
Mike launched Frog in 2009, after seven years in industry and 12 years at 3i. He represents Frog on the boards of Clue, Evotix and Modulr.