Netscape veterans Ben Horowitz and Marc Andressen guided LoudCloud Inc. through a roller-coaster of growth, IPO, cash crunches, stock price crashes, splitting the company, acquisition and ultimate sale to HP for $1.65bn. It will be a movie one day. Now a successful venture Capitalist, Horowitz's 2014 book has become a bestseller.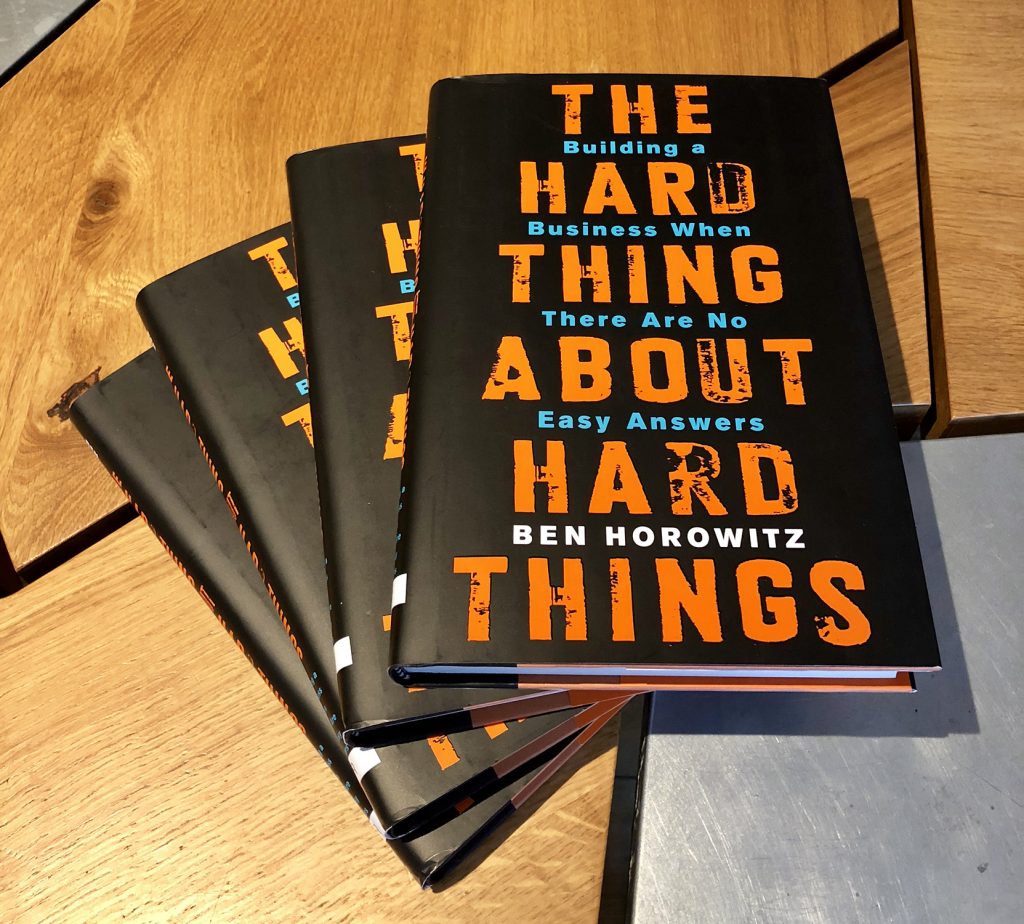 It's one of our favourite scale-up tech books here at Frog. An autobiography that blends raw and engaging storytelling with a range of hard hitting advice. Horowitz's book is a must read for all tech entrepreneurs, investors, chairman and senior team members.
Key takeways:
Horowitz sweeps aside any mirage that scaling up companies is easy, and he does it with honesty and simplicity that helps people be more open to discussing the very real challenges they have. If he can talk openly about 'The Struggle', as he refers to it, then we all can.
As a leader, building a robust senior leadership team that can genuinely challenge you and mould better decision making is key.
Don't convey only optimism; be honest about threats to the company.
Don't be scared of introducing firm procedures into your operation if they will make your business more effective. Bigger teams need robust processes. Minimise politics about promotion and individual domains with well-designed processes you can refer back to.
Don't quit. Ever.
Selling a company at the right time based on a sound view of market dynamics isn't something leaders should feel the need to justify. It's part of the job.
Whilst he firmly stresses the need to share a CEO's burden with a close team, Horowitz draws out valuable advice from his struggle, particularly the reality that a CEO can't hide from being 'the one' to make the big calls: hiring, firing, splitting, acquiring, selling. For example, Horowitz led three phases of downsizing during his journey, impacting 400 employees. He survived by being clear, open and authentic about the reality of the situation facing the company in each instance and letting people go in the right way. 'Take care of People, Product and Profits – in that order,' he says.
Within his theme of 'management debt', he highlights how easy it is for CEOs to make poor short-term management decisions under pressure, like conceding to an executive's excessive demand for a higher salary, which goes on to impact the morale of the wider team. Such bad decisions will accumulate into far more awkward challenges later down the line. Horrowitz declares himself a firm advocate of taking the hard decision up-front, and seeing a CEO's job as one where 'ruffling the feathers' is essential.
Culture is unsurprisingly a strong undercurrent. Culture is not about bringing pets to work or yoga classes. True culture drives real behaviour, evident in team mates going the extra mile for one another, something Horowitz highlights countless times as he shares snapshots from the LoudCloud journey.
It is surprising and refreshing to hear Horowitz emphasise strategy as well as a range of operational guidance as key. He's from the pragmatic school of strategy, advising that you will never have all the analysis, information and data you want before making a decision. Instead, he recommends CEOs keep acquiring knowledge day by day, synthesising many small interactions with customers and employees, so when it comes to answering the bigger questions or making a bold strategic move, the evidence back-up is there.
The Hard Thing About Hard Things is cracking read packed with insight and guidance, much of which has fed into Frog's CEO Scale-Up methodology.
---