The past year was marked with economic turmoil in most of the world, largely because of the nationwide lockdowns caused by Covid-19. Not only has the pandemic resulted in a widespread financial crisis, but the global phenomenon has also impacted remittance payments, particularly those sent to Africa. According to a new World Bank report, remittance payments going to this part of the globe dipped by an overall 12.5% in 2020. 
In a recent podcast interview with BBC, Azimo Chairman Michael Kent shared his insights on the decline of remittances in Sub-Saharan Africa. Azimo is a Frog portfolio company and a global leader in online money transfers. Although there was a steady increase in remittances in some parts of Africa like Mozambique, Ghana, Zambia, and Kenya, the focus largely lies on Nigeria, which was the main cause of the decline in numbers.
"Remittances tend to be incredibly resilient and knowing the people who receive the money are on the other end really need it—they need it now more than ever—they're hustling to make sure that they can send those funds," said Kent.
Money transfers are a big factor of income in African countries. Kent explained that there are a lot of reasons for the dip and it all fundamentally boils down to the individual stories of the people sending the money. For Nigeria, which declined to about 20%, it's a different picture. 
Kent explained that there are two contexts for Nigeria. "One, there is a controlled currency and so there's a parallel market and a lot of the money flowing into Nigeria is flowing informally. And then there's been some policy changes by the Central Bank regulator, the CBN (Central Bank of Nigeria), and they've effectively 'dollarized' remittances."
"So rather than sending naira, remittance senders and recipients receive US dollars, which has caused a few problems in the market. Quite a lot of people receiving those remittances don't have US dollar bank accounts so they have to queue up to pick up US dollars in cash, which is fine if you're in downtown Lagos and you have 20 banks to choose from." Kent added that people who live outside Lagos are plagued with long queues and a shortage of US dollars so it's not as easy as it used to be.
To hear more about his thoughts on the remittance decline in Africa, listen to BBC's podcast episode with Kent here.
---
About the author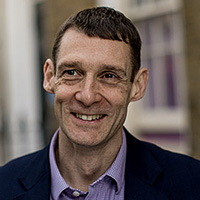 Steven Dunne
Senior Partner
Steven has over 15 years of private equity experience gained both within private equity firms and as a senior executive of private equity backed companies. He joined Frog as CFO and Partner in charge of Portfolio in 2015. He represents Frog on the boards of Mediatonic, Scoota and Edited.