Dora Ziambra, Chief Operating Officer of Azimo – Frog portfolio company and a world leader in online and smartphone-based money transfers – recently shared her thoughts on the future of digital payments in a post-COVID world in an article by online magazine UK Tech News. 
According to Ziambra, around 15% of the UK population was living a cashless life before COVID struck. She said: "With digital transactions booming and even the elderly adapting to contactless payments, that figure will be significantly higher now. Even as lockdowns end, it's the beginning of the end for cash. As digital payments become the norm, consumers will demand instant payments as standard, even when sending money across borders. We're used to digital services like Uber and Amazon providing light speed gratification – financial services will have to meet the same mark. Consequently, expect to see startling improvements in automated identity verification and compliance technology. This is the area that slows most financial transactions down, so it's attracting huge investment and innovation."
The publication also named Ziambra as one of the most influential women in UK Fintech. Joining her in the list were Kristy Duncan, founder of Women in Payments, Jane Loginova, co- CEO and co-founder of Radar Payments, Veronica Melendez, Head of Payments at Recharge.com, and Charlotte Wells, Head of Community Engagement and the Women in Crypto Powerlist at Wirex.
Read the full article here.
---
About the author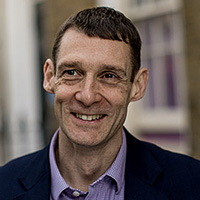 Steven Dunne
Senior Partner
Steven has over 15 years of private equity experience gained both within private equity firms and as a senior executive of private equity backed companies. He joined Frog as CFO and Partner in charge of Portfolio in 2015. He represents Frog on the boards of Mediatonic, Scoota and Edited.