Dora Ziambra, Chief Operating Officer of Azimo – Frog portfolio company and a world leader in online and smartphone-based money transfers – was recently featured on WeAreTechWomen's "Inspirational Women in Tech" series.
In the post, Ziambra talked about how she started her career and worked her way up to become Azimo's COO. She also shared a few tips for people who are trying to excel in the tech industry.
"I started out as a derivatives trader in Chicago, built my own options trading business in Germany, worked in international banking in London and Frankfurt, and joined a start-up advisory in Africa," Ziambra said. "Along the way, I worked for the likes of ECB, Deutsche Börse and PayPal. I have worked for Azimo for the past seven years and been part of its journey from an ambitious scale-up to a global cross-border payments company."
According to her, every job, career, or day has its own set of unique challenges, which can become effective tools to motivate us as human beings. "It has at times been a challenge to have people make assumptions about me based on my gender or appearance but I have managed to defy those assumptions. I was also challenged when I no longer liked the sector I was working in (trading/capital markets) and wanted a change."
On the barriers of success for women, she explained, "There are barriers for women in most sectors but in my view, it stems from lack of critical mass. The more women that work in a sector and succeed, the more will be interested in joining and the more 'acceptable' and common it will be."
Asked what advice she would give to a person who is trying to excel in their career in technology, she said: "Be flexible and always be learning. The tech sector is very fast-moving – whatever was the new thing a year ago is probably obsolete today!"
Read the full article here.
---
About the author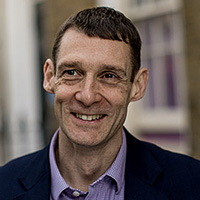 Steven Dunne
Senior Partner
Steven has over 15 years of private equity experience gained both within private equity firms and as a senior executive of private equity backed companies. He joined Frog as CFO and Partner in charge of Portfolio in 2015. He represents Frog on the boards of Mediatonic, Scoota and Edited.