It has been weeks since the UK left the EU and questions have been raised: What does the future of London, one of the world's strongest financial hubs, look like? In a podcast interview with BBC, Azimo Chairman Michael Kent gave valuable insight on the obstacles facing London's Fintech industry post-Brexit and shed some light on moving their London-based firm to Amsterdam.
Last year, Frog portfolio company Azimo – a global leader in online and smartphone-based money transfers – opened a big office in Amsterdam. Kent explained the motive behind this strategic migration: "We're focused on serving the whole of the EU, so big markets for what we do and what we do is help people send money back home. Because of Brexit and the changes in regulation, the fact the financial services were largely left out on the Brexit deal, we have to get regulated in a European market in order to continue to serve those European customers."
Nonetheless, he said that London is booming but one great challenge for the financial services centre might be attracting more talent to sustain the city's current standing. "London's got a lot of stuff going for it. The FSCA are fantastic regulators. Capital markets here are very well-developed. You're getting towards a west-coast, American-style of funds at every level of the cycle, from seed all the way through to latest stage growth and pre-IPO."
He added: "There's a lot of fundamentals here but I think the problem for us always has been and always will be is hiring great people. And that's hard in the UK. The sell of the UK is the place where to build your career. It's probably somewhat diminished because you're going to be working on slightly smaller problems because you're going to be working more on stuff that's UK-focused than Pan-European focused and if I ask my team who are based in London on who wants to move to Amsterdam, a lot of hands are going to shoot up. That's the important thing is continuing to attract talent into the UK."
Due to the UK's present visa and migration schemes that make it more difficult for non-British nationals to work in London, the nation's standing as a place to nurture talent and build a career is slowly fading. Kent believes that for London to evolve as a tech hub, it needs to bring in talent from people around the world.
"I would just say people, people, people," Kent said. "In Amsterdam, it's incredibly easy to hire somebody from anywhere in the world, make the case that they're good at what they do and bring them over. That process is not streamlined yet in the UK so I think if I had to make a request, it would just be to really focus on the talent. The capital is here already, what would be really good is to focus on making it as easy as possible for us to find talent and bring it in from all over the world because once it's here, it will teach the next generation. People are what they should focus on."
For more of Kent's insights on the future of Fintech in London, listen to the full podcast here.
---
About the author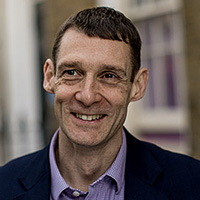 Steven Dunne
Senior Partner
Steven has over 15 years of private equity experience gained both within private equity firms and as a senior executive of private equity backed companies. He joined Frog as CFO and Partner in charge of Portfolio in 2015. He represents Frog on the boards of Mediatonic, Scoota and Edited.